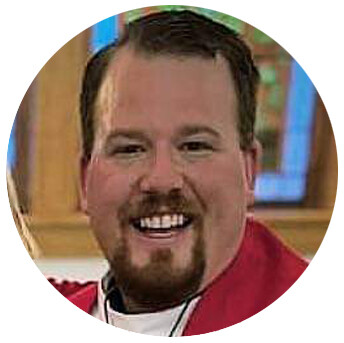 Jonathan Dolan
Associate Pastor for Youth & Family
Pastor Jonathan Dolan

Our first date was to the Minnesota Renaissance Festival in Shakopee, MN in

2008. We've gone at least 11 times together since.

Lisa and I met at North Iowa Area Community College (NIACC) in Mason City. Specifically, we were both in the NIACC Concert Choir and NIACC Singers (the college show choir).

Lisa graduated with her Registered Nurse (RN) from NIACC in May of 2010.

I

graduated with my Bachelors in The Study of Religion from the UNI in May 2013.

I was a Camp Counselor at Lutheran Lakeside Camp (ELCA) in Spirit Lake/Okoboji in the Summer of 2013.

Lisa and I were married on June 7

th

, 2014. Had Grandma (d. 2000) and Grandpa (d. 1993) Dolan been alive, it would have been their 70

th

Wedding Anniversary. We honeymooned to Jamaica

(and have been there 2 more times since).

We moved right to Wartburg Theological Seminary campus housing in Dubuque June 20

, 2014 and moved out June 20

, 2019.
While in seminary Lisa and I made a pilgrimage to the Holy Land, (Israel, Palestine and Jordan) for 3 weeks in January 2016.

We traveled to England, Wales, Ireland, Northern Ireland and Scotland for 10 days in August 2017.

Anastasia Joy Dolan was born Feb. 16

, 2018 at Mercy Birth Center in Dubuque, Iowa.

In April 2019, American Lutheran Church (ELCA) in De Smet, South Dakota extended a Letter of Call for me to be their pastor. I began on June 21

, 2019 and have been there right up until this call.
I was Ordained May 25

, 2019 at Nazareth Evangelical Lutheran Church (ELCA) in Cedar Falls, my "home" congregation during college. I was raised Catholic and became Lutheran during college.

I graduated with my Master of Divinity from Wartburg Theological Seminary in May 2019.

Etta Rose Dolan was born on September 10, 2020 in Brookings, SD.

Lisa is presently pregnant with our third child, a boy, due on Christmas Eve 2022.