August 17, 2023

|

Wellspring Quarterly Magazine

by

Bryan Simmons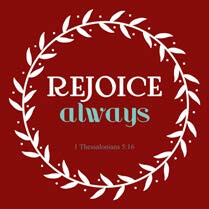 "Rejoice in the Lord always; again I will say, Rejoice. Let your gentleness be known to everyone.
The Lord is near. Do not worry about anything, but in everything by prayer and supplication
with thanksgiving let your requests be made known to God. And the peace of God, which surpasses
all understanding, will guard your hearts and your minds in Christ Jesus." ~ Philippians 4:4-7
Dear Beloved in Christ,
Today, I received my annual letter from the Story County Treasurer's office. It's time to pay the registration fees for my vehicles. Yay. Speaking of my vehicles, I'm dealing with a few leaky tires from road debris like nails and screws. I feel like this has been a reoccurring issue this past year. So, I've got a couple of punctures where the patch probably won't hold and I'll need to buy a new tire even though the tread has plenty of life left on it. Yay. I'm honestly not sure what there is to rejoice about government fees and constant repairs. It's these kinds of nuisances that detract from my joy, not add to it. And don't even get me started about the ramp-up of political ads for yet another election season!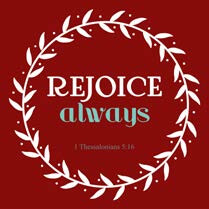 These types of irritations, as joyless as they can be, are nothing compared to what the apostle Paul went through. Paul details many of them in 2 Corinthians 11: several beatings and imprisonments, a stoning, shipwrecks, long travels through dangerous areas on foot, betrayals, suffering hunger and thirst, all for the sake of proclaiming the Gospel of Jesus Christ. Paul writes the letter to the Philippians while in prison. Eventually, he will be executed by the Roman government. But, he's a Roman citizen so doesn't get tortured or killed cruelly, just beheaded. Yay. How does this guy get away with saying rejoice in the Lord always?!? Life is hard enough just with paying bills and maintaining all the stuff that breaks (and everything breaks). It's even HARDER suffering truly evil things in this world. What's Paul's secret? Delusion? Disassociation? Radical acceptance?!?
Not exactly. In a word, Paul's secret is Jesus. Jesus' incarnation, life, death, and resurrection has overcome the world. All the piddly, stupid, annoying things that take away from our joy and all the more serious things that threaten our safety and very life have been overcome. Not only that, but trusting this can bring an odd sense of peace when all other signs indicate that there shouldn't be peace. It's a God-given peace and it truly surpasses all understanding. It's not delusion. It's not disassociation. It's not even radical acceptance. It's living faithfully and fearfully into the reality of what God has accomplished in Christ. That reality is bigger than this world and master of it. The piddly things? Overcome by Christ. The evil things? Overcome by Christ. It doesn't always make life easier, it doesn't
always mean you'll be happy, but thank God it means life is bigger than what can overcome us.
Yours in Christ,
Pastor Bryan Simmons