The Story County Board of Supervisors approved $200,000 in funding for emergency rent and utility assistance. The funding is designed to prevent homelessness in response to the impending expiration of the eviction moratorium on July 31, 2021 and the ongoing negative impacts of COVID-19.
Funding will be made available to Story County Centralized Intake partner agencies: The Bridge Home, Good Neighbor Emergency Assistance, and The Salvation Army. The Centralized Intake program allows Story County residents needing assistance with the current month's rent and/or utilities to apply for assistance from multiple programs at one location with one application.
Story County commissioned a study to review affordable housing throughout the county in 2020, with the final report released this past spring. That study noted the cost of rent, and other essential needs, is high enough to price some households out of reliable options and that these populations are increasing in Story County. This, in addition to the upcoming eviction moratorium expiration, led Story County Supervisors to identify funding opportunities to address immediate needs. Vice Chair Latifah Faisal stated, "We know the need existed before COVID-19. What we don't know is what the level of need will be when the eviction moratorium expires. We want to be sure that there are safety nets in place and that agencies have access to the resources they need to help individuals and families who will be impacted."
"The pandemic has had negative impacts that we are going to see for a long time. This assistance can make a huge difference to the family faced with living in their car or someone who would otherwise be couch surfing," stated Faisal.
Individuals needing assistance with rent and/or utilities may apply for assistance through the Centralized Intake program. Applications are taken on an appointment basis at Story County Community Services, 126 S. Kellogg Ave, Ste 001, Ames IA 50010. To make an appointment, please call 515-663-2930.
* * * * * * * * * * * * * * * * * * * * * * * * * * * * * * * * * * * *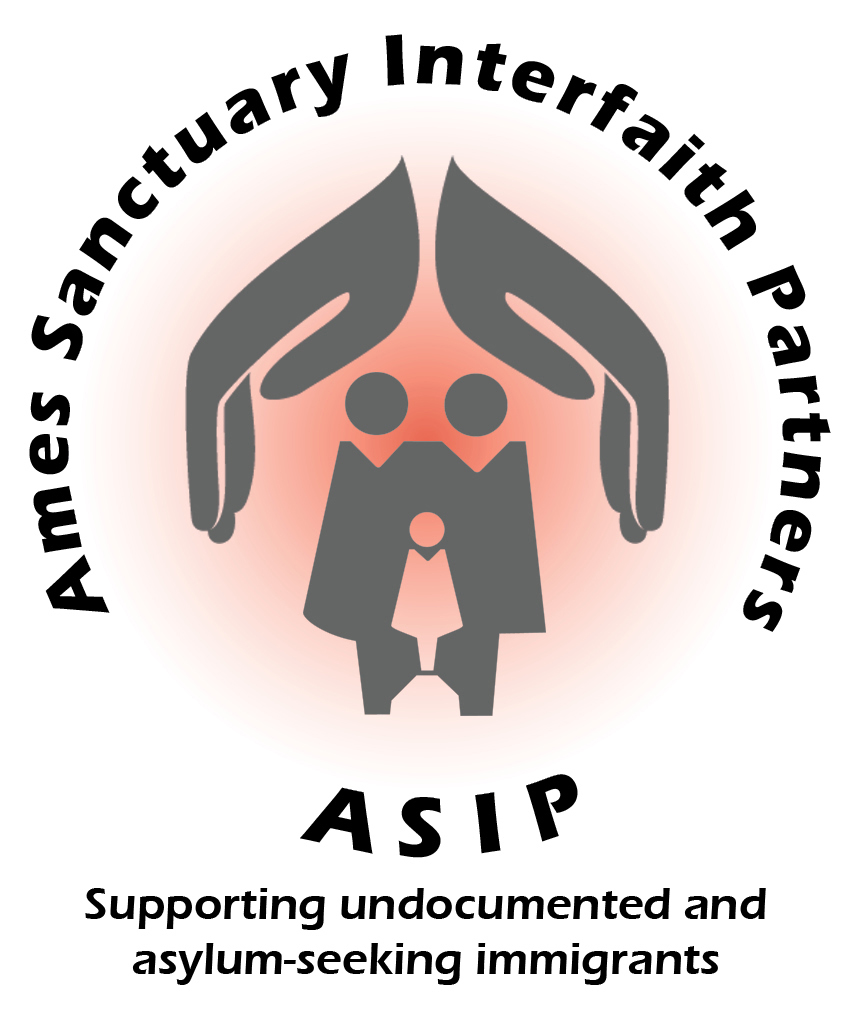 "To remain indifferent to the challenges we face is indefensible. If the goal is noble, whether or not it is realized within our lifetime is largely irrelevant. What we must do therefore is to strive and persevere and never give up." Dalai Lama
Bethesda is a partner church in the Ames Sanctuary Interfaith Partners (ASIP). Among MANY efforts, their current focus includes assistance for specific local immigrants, Covid vaccination access, as well as the current crisis of unaccompanied children at the Mexican border. Want to get involved? Contact Bethesda member Diane Pierce by clicking here.
Just some of the heartfelt testimonials from those who received access to DACA funding with the help of ASIP . . .
"The help I have received from ASIP has already begun to change my life. The amount of hope and excitement for my future this organization has brought me is indescribable! Knowing that I will now become a DACA recipient really has been a dream come true! Words cannot describe how thankful I am to all the generous people who have donated. You all are seriously changing lives!"
"First, I want to start with a thank you. This program has helped me take a big step in succeeding my biggest dream – being able to go to college, becoming a regular student. I want to help my parents and pay them back the struggle they went through to come to this country for a better life not only for them but for their children. This organization (ASIP) helps dreamers like me have the opportunity to succeed in this country and become something big, making a change for the better. When I receive my DACA I would love to join the National Guard. I want to protect this country that has given my family and I many opportunities and everything we need. I would like to thank all the people who donate to this program and also encourage other to keep donating because it is a change in many lives. I personally will never forget this help. Thank you."
"Thanks to ASIP, I was able to not worry about spending more than a month's rent on DACA, and I'll be able to rest easier living my life like everyone else, driving a car, advocating for my community, and working like everyone else. Most importantly I'll be able to get work experience in the field I'm studying for! I've been waiting for my chance to apply for DACA for a long time, so once again I thank ASIP for this amazing opportunity."
"Words cannot explain how happy I was when I was contacted about having my application paid for. Thanks also to the ASIP representative who checked on the details and worked hard to stay in contact with me through this process."
"Receiving the help to pay for my DACA renewal has been such a blessing for my family and I. Receiving the help took a big weight off of my shoulders. Before having the help you guys provided for me, I was beyond worried on how to come up with that money as financially I was not stable due to being high risk to COVID. I truly appreciate the support you guys gave me and the opportunity to continue to be in this country safe and with my family."
"This fund has given me so much hope and excitement for my future. The money I have received from ASIP has felt like a blessing and a final push to become a DACA recipient! I am so grateful for all the lovely people who have donated. It goes to show that there are still some good-hearted people out there. Thank you for helping achieve my dream of becoming a 'dreamer'."
"Many thanks for the help you have provided that allows me to realize my DACA application. For me, to obtain DACA status is to obtain the opportunity for a new life in this country. I will always be grateful for all the persons who have made this possible. GRACIAS."