Jan. 9, 2022 - Baptism of Our Lord: "The Next Big Thing"
January 09, 2022 | Ryan Arnold
Passage: Luke 3:15-17
Ksenia Oskina was starving by the time she got to the front of the hours-long line. Her goal? To experience the next big thing, a cool new American restaurant. A resident of Moscow, Russia, the year was 1990. It represented an era of change in her native land. As far as grand openings go this was one for the ages. The restaurant had a staff of 600 workers and seating for 900. Before the doors even opened that first morning more than 5,000 people had lined up outside. By the time the eatery closed that night they'd served over 30,000 customers.
Despite all the hype Ksenia had never heard of the place before. So she peered through its glass windows to see what people were eating. She curiously observed the thin slabs of meat and sliced vegetables between buns of bread. When it was her turn, she nervously asked the cashier for a hamburger. She wanted the fabulous box it came in. She saved that carton and her drink cup and brought it to work the next day to show her co-workers.
"I used that hamburger box for a long time and put my sandwich in there instead of a lunchbox," Ksenia said. "I'd clean it, dry it on the heater and then use it again."
What fine establishment had she dined at? The very first McDonald's in Russia. She had a Big Mac. It's made quite a mark on Ksenia and billions of others served.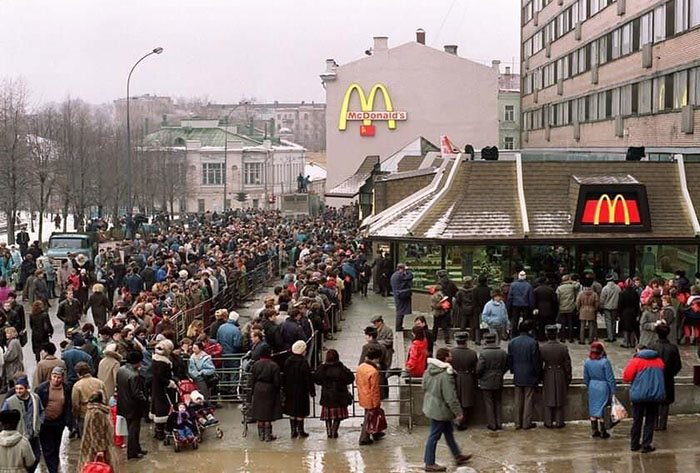 Sport
Until Covid closure halted her streak Tani Christian had camped out for tickets at the same location in late June for seven straight years. Her goal? To see the grandest tennis event of them all: Wimbledon. A lifelong fan, she lines up for every one of Roger Federer's matches each time the Grand Slam competition comes around. An elite player like Federer can play in up to seven matches over the two weeks. She lines up, hoping to purchase tickets, for each and every one.
To increase her odds of getting the best seats to the next big thing Tani camps out overnight until the line begins to form at 5:30am. Then, after each match is played, she runs back to the line to do it all again. "You don't sleep much and it's hard to get a decent meal or a shower," she says. So she rents a room at a nearby B&B, just for the chance to quickly shower, change clothes and freshen up. You can only leave the line for up to 30 minutes, which requires her to scurry to get back. Still, "the line is special," she says. "It's nice to hang out with other fans. I wouldn't want it any other way."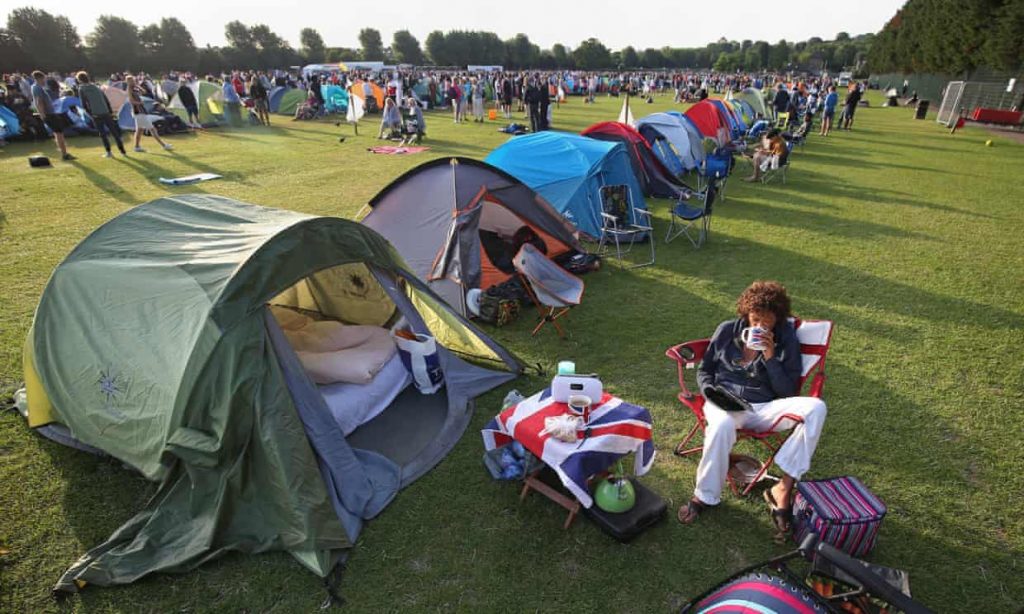 Tech
Three days before the launch of the next big tech wonder, slated to release on November 3, 2017, lines at stores were already being formed.
The product, which had an online pre-sale earlier that Fall, had sold out in minutes. Oh, you could wait a month or two in the hopes it'd be more available later. That is always an option. But if you wanted it now? Better get in line.
At the London location the first person there brought a camping chair, a sleeping bag, clothes and food. They were in it for the long haul. Others quickly followed.
Another person in line mentioned they'd already managed to pre-order four of the hottest new gadgets; one for them, another for their partner, two to sell to make some cash. They now hoped to buy another two in person, for family living abroad, so they could have their own.
One man standing there had no interest in buying the product at all. Instead he'd been asked to wait in line so his boss could get one. Luckily he only had to wait a few hours. Another colleague was coming to take his spot overnight.
You'd have to really like your boss to be willing to do that!
We're talking about the latest iPhone at the time, the iPhone X.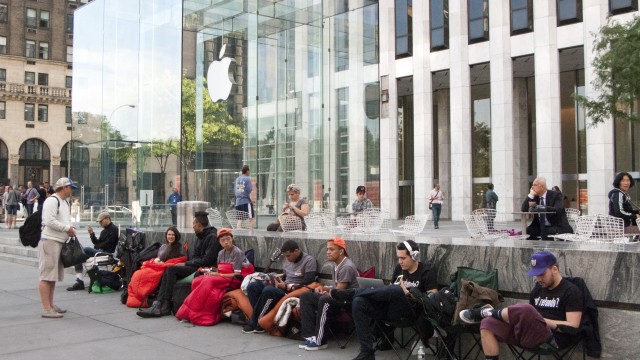 River
Today's text too, is a story of a throng of people excitedly awaiting the next big thing. Something significant was certainly brewing. At least that was the word on the street. Hoping to hear more, people left their homes and cities and towns and headed to the wilderness. They were filled with great expectations.
People continued to gather.
The crowd continued to grow.
They had been waiting not days or weeks for the Good News this next big thing would bring, but years. Hundreds of years. Without a king for so long they lacked leadership. Living in occupied territory they lacked agency. The Roman Empire ruled with an iron fist.
When they fought the law, the law won.
As the people congregated around the banks of the Jordan River they listened as a man began to preach. His name was John.
He encouraged them to turn over a new leaf, imploring them not to –
cheat,
threaten, or
falsely accuse.
He encouraged them to –
Clothe those without,
Feed the hungry,
Care for people with less.
To initiate this new life he encouraged them to –
Come to the waters,
repent of their sins,
be cleansed,
be forgiven, and
be made new.
For the waters of this baptism would set the people free.
He encouraged them to go back to their –
homes,
towns,
cities.
And live into this new life they'd been given.
To give it everything they had.
People continued to gather.
The crowd continued to grow.
These people, too, got in line for something exciting.
They eagerly anticipated what would come next.
All the people there were baptized that day.
Everyone. Without exception.
And this John character? He spoke like the prophets of old, what with his –
confidence,
certainty,
conviction.
The people gathered began to wonder –
Could this man be the One?
The Messiah spoken of by prophets?
The Savior they'd awaited for so long?
John, are you the next big thing?
The murmurs grew louder.
John demurred. "I baptize you with water; but one who is more powerful is coming. He will baptize you with the Holy Spirit and with fire."
A figure then approached from the distance.
The figure then took their place at the back of the line.
When everyone else was cleansed in the river they were then cleansed too.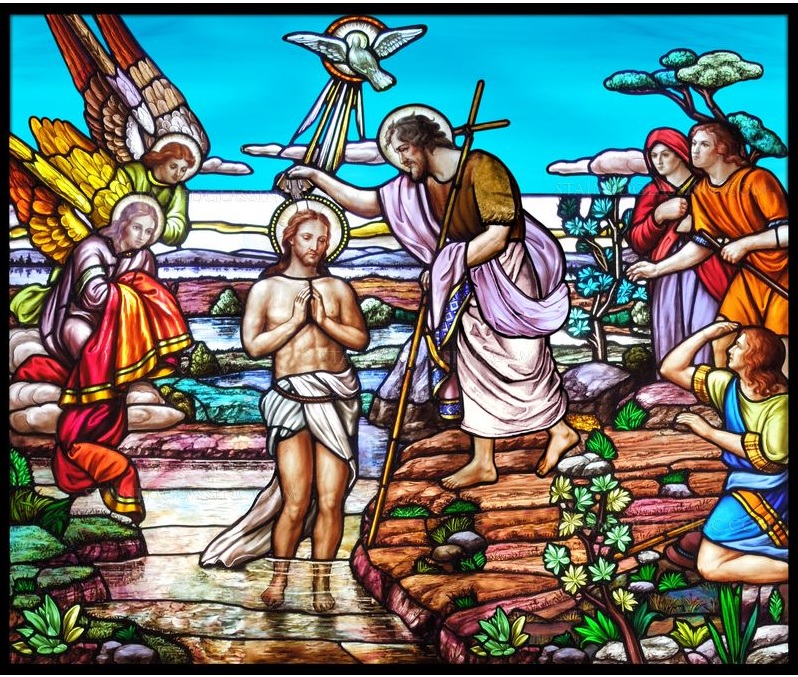 In this moment we get a glimpse of what it is to be –
Last of all,
Least of all,
Servant of all.
Why did this man do that?
Why did he stand in line with the –
cheaters,
philanderers,
false accusers?
Why did he stand with those that did not give of their excess to those without?
Perhaps it was to –
Stand in solidarity with all of humanity.
Stand alongside the broken world he came to save.
Stand next to the everyman, the everywoman.
Perhaps it was to stand with people just like you and me.
Now cleansed anew, the man then prayed to the good Lord above. Whatever was to happen next he to went to God in prayer for the strength to –
live, and
love, and
lead –
…whatever it was that would come next.
It was then, in that moment when the heavens opened. The Spirit descended on the man in bodily form, like a dove. It is a symbol of peace that endures.
"You are my Son, the Beloved,"
the voice from the heavens proclaimed.
"With you I am well pleased."
Seeing and hearing this with their own two eyes, those gathered began to realize something.
They hadn't witnessed the next big thing.
Instead, they had witnessed the greatest thing.
The arrival of the:
Price of Peace,
King of Kings,
Savior of the world.
The people began to realize, every so slowly, that –
Newly cleansed of sin, and
Having encountered the Son of God,
Their lives would never be the same.
Close
It is human nature to constantly be on the lookout for the next big thing. We do it with the –
Foods we consume,
Sports we view,
Products we buy,
…and so very much more.
We excitedly line up for it, waiting hours, days, weeks or more. All to attain that which we desire.
We watch as, over time, the next big thing invariably fades away. We realize that:
Big Macs are just that (apologies McDonalds)
Championships fade (even the great ones)
iPhones soon become obsolete (sorry Apple).
All which leaves us constantly yearning for more.
Today's text reminds us of a time when people gathered, stood in line, and excitedly received something money can't buy. It a gift with enduring, eternal appeal. A gift that never fades, grows old, or goes out of style.
It is a gift offered from above, by a savior who –
Stands with us,
Cleanses us,
Forgives us,
Leads us, and
Points us to better ways,
As broken, and in need of healing, as we may be. Amen.