Love
September 22, 2019 | Bryan Simmons
Passage: 1 Corinthians 12:21-13:13
I just love that Rene Clausen piece, "Set Me as a Seal Upon Your Heart." It's a good one and it really communicates the message of what we're talking about today. We are embarking on a new sermon series and it's "Fruits of the Spirit." And we get to look at LOVE as the first one. And that that's a really fun thing to do because it really kind of is the groundwork for everything we do together as the Church of Christ. I think Stephen pointed out that part of this text that you read today, we've probably heard it at a few weddings, how many have heard that "love is patient love is kind" at a wedding? Yeah, it's it's a great one, right? We all love it.

It's not really what Paul was talking about, for weddings.

The Greeks have this this way of talking about love and actually have different words for different kinds of love. In the English we just have love, right? Well, we got stages, right? We like. We really like. And then we love. Right.

But the Greeks, they had this way of talking about it. And this wasn't really just intimate, passionate love between two people. They had a different word for that. This word that the Paul is using here is this concept of agape. This agape love, this ultimate kind of love that goes beyond almost any love we can give in this world. The closest that we feel in this agape love, is if we manage to have parents that gave us this kind of love, this this love that no matter what you do, I'm always going to love you.
But it's a love that is almost beyond our grasp, beyond our understanding, because it is a love that, as Paul says, bears all things, believes all things, hopes all things, endures all things. It never ends. And in this way, we think about this wonderful gift, to this wonderful promise that you and I have. You go all the way back to before creation and how God exists eternally in love. Remember, John says that God IS love? Well, God exists eternally in that bond of love. Father, Son and Holy Spirit. And it's a confusing thing for us to think about when we think about one God existing in three persons. But that's what it means. And in this eternal bond of love, God creates, and creates us out of nothing. And the beautiful thing about it is God did not have to do that for you or me or anyone. God does not need it.

God does not need it. Creation was made for you and for me to enjoy. Creation was made for you and for me to be in this same bond of love that God is with us now. God wanted to share this love with us, so we could love one another and love God. What a beautiful thing that is to be able to love and to be loved. But in order for love to truly work, we need to have freedom involved in that, don't we? Because you cannot be forced to love.
And so in that freedom, we have the freedom to love and the freedom not to love. Right? And everyone else has the freedom to love and not to love. And we tend to use this love in strange ways, right? We first tend to love ourselves first more than anything else. And it causes some problems along the way, because the love we have for ourselves is not agape love.

And so then enters in this ugly word--sin. Or a way to think about sin is when we choose to not love, when we choose to love in a selfish way. And it causes all kinds of pain and grief in this world. And I don't think any of us are immune to this either. I'm part of that as much as any of you. I tend to love myself, and it does cause problems. Ego gets in the way.

When you love yourself you tend to want to be right, and you tend to want to be important, and you tend to want to have your way. And that is the misguided love that causes all kinds of problems in this world.
Paul, in his letter to the Corinthians, is addressing this issue of spiritual gifts and is addressing this issue of being in community with one another. And he's talking to people about how we are One in the Body of Christ, but individually members of It, and we all have a part to play in this beautiful Church that proclaims the ultimate sacrifice God gave for you and me--the ultimate act of love that assures us that no matter what--we have this agape love from God. We are forgiven. We are welcomed into eternal life through the resurrection of Jesus. But to not assume that we are more important than anyone else because of the role we play, because we are all working for this same goal, towards the same message of proclaiming the love of God towards others. Paul is really big on using that towards the building up of the church for this ultimate message of love. And he kind of attacks, the idea of speaking in tongues as he's talking about it, because he says that speaking in tongues really only edifies the person speaking unless someone is able to interpret. But that doesn't happen all the time. So he says prophecy is more important. Then he gets into this idea of talking about faith, hope and love. He acknowledges all these gifts that we have. Or we can be apostles, prophets, teachers, where we can have these deeds of power and we can do these gifts of healing.
But then he talks about faith, hope and love as these greater gifts. And then goes on to say that love itself is the ultimate thing. This agape love, this undying love, this love that is patient, kind, not envious or boastful, or arrogant or rude, does not insist on its own way, is not irritable or resentful, does not rejoice in wrongdoing, but rejoices in the truth--bears all things, believes all things, hopes all things, endures all things ... love never ends. And then he goes on to say that faith, hope and love abide--these three. But the greatest of these is love. And maybe you've heard me say this before, but if you've ever read that, and you've ever wondered to yourself, WHY is love the greatest? After all aren't faith and hope things we need as well? We need faith to believe that what Christ did for us through the cross and resurrection is true and that it IS for us. And in that faith, it gives us hope. It gives us the hope that there is more to this life than we can see with our eyes and our senses. That the promise of eternal life is indeed true for you and me, that we can live in this ultimate love and forgiveness of God.
We know that when we screw up, we can repent, be forgiven. Try again. That is what hope brings us. It's a beautiful thing. But when we die, when you come to the end of your life, you have no more need of faith. You have no more need of hope because what you have faith in and what you hope for is realized for you and you are left in the eternal presence of God ... who is love. What a beautiful gift that is, and what a beautiful thing it is for us as the Church to in that we can live this promise each and every day. We celebrated a baptism last night. MACY Lynn Makowski was baptized at the font and entered into this promise of love, where she is marked by the Cross of Christ and sealed by the Holy Spirit forever. We are strengthened by this meal. For this very meal of love that feeds us in this process, strengthens us in this hope. Until this meal is even no longer necessary for us because we will be in the eternal feast.
And so when it comes to loving others, it's not this thing that we HAVE to do or we SHOULD do or we need to do BETTER.

When we think about serving the poor, standing for the oppressed, working for justice, visiting those in prison. These are things that we wanted to do because of the faith and hope that is instilled in us from God, because of the love that we have seen through God. It changes us, causes us to look at the world in a different way and it causes us to see a world that God has redeemed. That Jesus has died for.

That Jesus is raised again to new life so that we may have this promise to proclaim. You and I are loved eternally by God in a love that will never die. And the beauty is that love changes us, and when we fight with that love, when we fight with that love with our own selfish desire, that love from God is continuing to pour into us, changing us, working us from the inside out so that we can serve the neighbor with a deep joy.

Because we know that God loves us all.

So faith, hope and love abide--these three--but thanks be to God, that the greatest of these is love.

Amen.
Series Information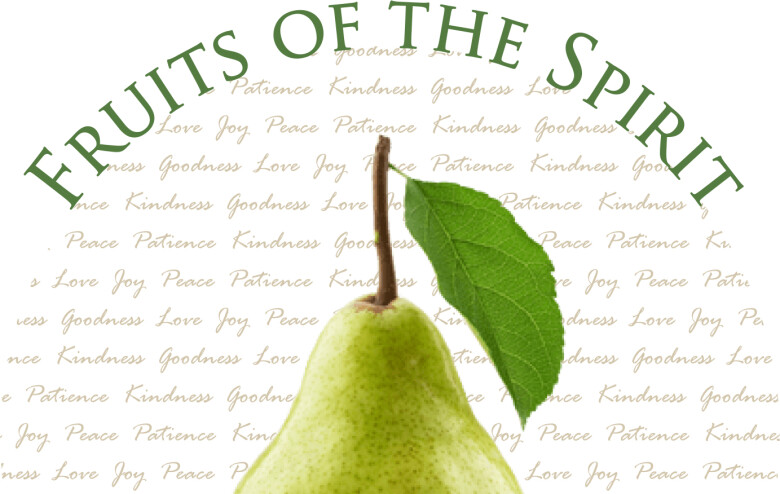 September 21 through November 24
Love
Joy
Peace
Patience
Kindness
Goodness
[All Saints]
Faithfulness
Gentleness
Self-Control [Christ the King]