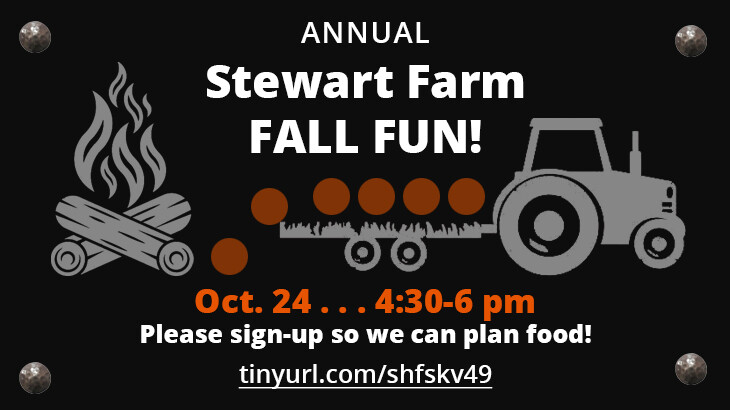 Sunday, October 24, 2021
,
4:30 PM - 6:00 PM
An annual favorite gathering at the Stewart Farm! Please sign-up by clicking here.
Come One, Come All to THE ANNUAL STEWART FARM FALL FUN!
This coming Sunday, October 24, 4:30- 6 pm, the Stewart Family has opened their beautiful farm for people to gather. There will be a Hayrack ride for all ages, bonfires, hot dogs, and S'MORES!
1) PLEASE BRING YOUR OWN CHAIR OR BLANKET TO SIT ON.
2) PLEASE also bring your own roasting fork.
3) When getting dressed for this event, whether it's cute and comfy or laid back and lazy, please keep in mind you will be in the country, so long pants may be the best route to go.
4) We are organizing a carpool, so those who can't drive at night can come, so please reach out to Emily (click here) if you are interested in driving or need a ride to the farm.
5) OVERALL, come with bellies empty and happy smiles. It's fall and a beautiful time to spend surrounded by amazing people.