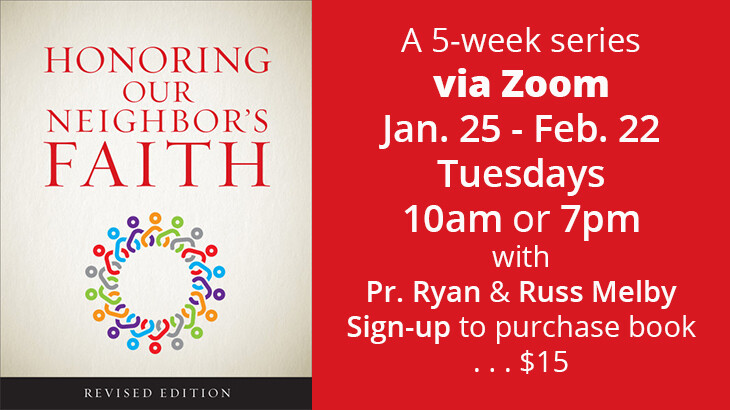 Every Tuesday, from 01/25/2022 to 02/22/2022
,
10:00 AM - 11:00 AM
SIGN-UP BY CLICKING HERE: https://bethesdanet.shelbynextchms.com/external/form/35cefc5b-85f6-433a-83f3-8913b4e54b8c
Join Pastor Ryan and Russ Melby for a 5-week series called Honoring Our Neighbors Faith. Each week we'll learn about a different Christian denomination or world religion, and then compare it to the teachings that we, as ELCA Lutherans hold to. Even better? Attendees will get to choose which denominations and world religions we study! The class is being offered Tuesdays beginning 1/25 through 2/22 at both 10am and 7pm, exclusively via Zoom, so you are able to join from wherever you are. The cost of the book is $15, and can be picked up at the church office, or shipped to you if you don't live in the area. Come, join us as we learn more of our neighbors locally and globally, and find ways to better connect with them. Hope to see you there!