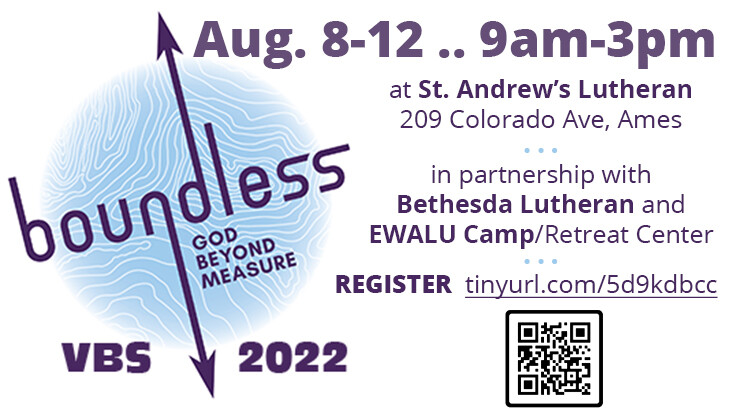 Every Monday, Tuesday, Wednesday, Thursday, Friday, from 08/08/2022 to 08/12/2022
,
9:00 AM - 3:00 PM
St. Andrews Lutheran Church . . . 209 Colorado Ave, Ames
Anyone aged 3-years (potty-trained) through age 10 (or having completed 5th grade) is invited!
The cost of VBS will be $30 for the first child and $25 for each additional child.
Children will need to bring a sack lunch each day.
Invite your Family, Friends & Neighbors to CLICK HERE and register (with secure online payment).
VBS is provided in cooperation with Bethesda Lutheran Church, St. Andrew's Lutheran Church, and Camp EWALU
Volunteer registration is OPEN now too! Please consider giving some of your time to this annual event of spiritual enrichment for our children! CLICK HERE TO VOLUNTEER!